12/29 Maintenance Updates

1. Violet's Official Crew will be released.
-Violet will be able to enter special PG areas and Airport area.
-Violet's level cap will be expanded to 62.
-New Costumes.
-Violet's skills have been updated and translated on:
https://docs.google.com/document/d/1NlXE...8X2_c/edit
-Permanent OC costumes will be craftable until 01/25.
-Event Accessories for Violet with special Event Mat that will drop from DG + Staying logged in with OC Violet for 30 minutes(Once) will be craftable until 01/12. Event mats will drop until 01/05.
-OC event box content (Event II tab):
1st box costing 15 shards: receive all of 1-day green talisman, EXP potions, 40% HP/MP capsules and 3 revive pills

2nd box costing 15 shards: costume fibers OR synchro fiber

1st box costing 20 shards: one item between enhancement fuels, purple/blue cap, -1 fuel, dioxicleaner, vaccine or +10/+11/+12

2nd box costing 20 shards: random equalizer or tuning item, can be for any level range
    60 shards box: random 3* accessory

-Once your Violet has reached OC, you can participate in a 3000 NX raffle by going here:
http://closers.nexon.com/events/2016/12/29/Update.aspx
, and clicking the red button at the end of the page.
2. New Event Dungeon.
-There will be Entrance Machine in Area 1, 2, 3, and Epilogue Area.
-겨울 선물 회수 작전's monsters can only be damaged through basic attack.
-Increased item drop rate if you do the dungeon with a full party.
-Quests are accessible from Epilogue Area.
-Event page:
http://closers.nexon.com/events/2016/12/....aspx#sec0
.
The third section shows some of the rewards for, respectively, dungeon drops, crafting (tab above Event I, accessible fully only in Epilogue Area), and dungeon clear.

The fourth section shows quest rewards. Quests are accessible from Epilogue Area. A one-time quest will reward you with OA/OC top and EX dungeon equipments (apparently?).

This week, we will have event dungeon experience +150%, and event mats +1. This is added on top of the +1 entry and free enhancements week.
-Top boxes are OA/OC pieces. In order, first box is weap, then top, bottom, shoes and gloves.
-Boxes content from top to bottom: Statue box, Tiamat scroll materials (not a box), 2 random event boxes with some items (potions and Tiamat area materials), skill cube box, PNA box, random enhancement item box, random chip box, screw driver box.
-There's also two gacha boxes, the grey cube-like ones with a light blue circle in the middle: first is a washing machine box, second is random chip adapter

3. Black Lamb's 2nd Rare Costume will be released.
-It is indeed the 2nd Rare Costume, and it will be released for Black Lambs first, then Wolfdogs later.
-SoD accessories will be removed from Washing Machines next patch.
-They haven't explicitly stated that SoD costumes will be removed from Costume Merge. All that they said was 2nd RC will be obtainable from Costume Merge, and that new costumes will be added on the result of Costume Merge failing. So it could be possible SoD costumes could be a result of that failure.
-SoD is now no longer obtainable for Black Lambs.
-Wolfdogs will still get SoD on costume merge. Violet, however, won't be able to costume merge until later date.(edited)
--
EVENTS
Event 1: From 12/29 to 01/05. there will be a special buff that will make all enhancing costs free and 1 additional entrance limit to Special Dungeons.
Event 2: New Weekend Login Rewards:
12/31
90 minutes - Tiamat core/mod/shield blueprint or Tiamat blueprint fragments
150 minutes - 2* top piece
1/1
60 minutes - random cash pet box
90 minutes - 300k statue box
150 minutes - 2* Fibers (300) and 1 synchro fiber
Event 3: New Years Event. Staying Logged in for 50 minutes everyday during the event will give following rewards: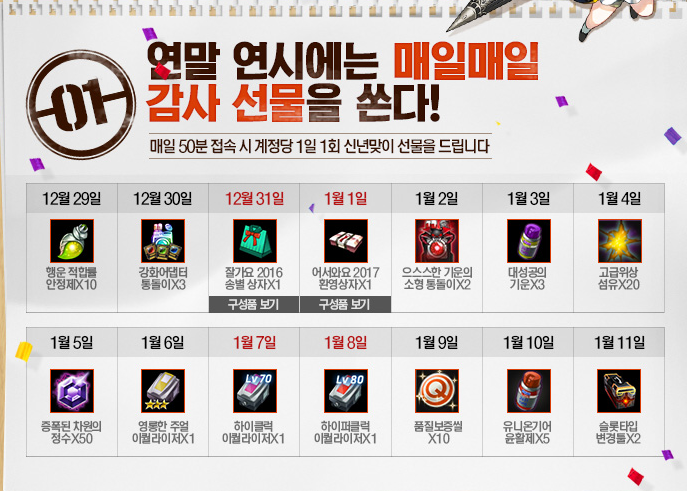 12/31
7 day account VIP
3* equalizers (2)
3* components (5)
2* fibers (50)
1/1
5-day washing machine VIP
71-80 Equalizer (1)
61-70 Equalizer (1)
Seals (30)
12/29 to 01/05 will have +1 Dungeon Entrance Limit with free Enhance costs, as well as 01/05~01/12 having 30% Item Drop rate(+Additional Credit and EXP)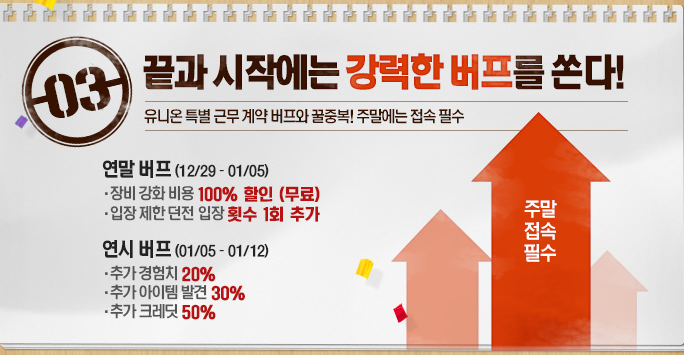 Event 5: Make sure to go into this Event page and claim your temporary Lv.75 Module and EX Dungeon Module/Shield on 12/31 and 01/01- use the Frozen Material to craft the permanent version in the Event tab.
http://closers.nexon.com/events/2016/12/...ation.aspx
Event 6: As customary, chance to obtain Rare Accessories will double for the release of new Rare Costume, and the 2nd Rare Costume for Black Lambs will have 100% Merge chance with 90% 3* upgrade rate.
All of the boxes that require gasoline-looking mats are for making permanent versions either of the equipment redeemed on 12/24 and 12/25, or the ones redeemed on 12/31 and 1/1.
Event 7: Crafting tabs.
Event I items will be craftable until 01/25.
Event I tab, all boxes from top to bottom:
-10: one-day talisman
-10: money statues box
-15: any type of fiber, synchro fiber, or phase trade silk
-20: random enhancement item, small chance for +10/+11/+12
-20: lv51~80 tuning item, an equalizer for a random level range, or gear lubricant
-60: random 1* acc
-100: random 2* acc
-150: random 2-3* acc, small chance of giving out wings
Event III tab: items that require red orb mats will only be craftable until next week. Those that require the gasoline-looking mats will be craftable until 01/25, however.
Boxes from top to bottom:
-20: random enhancement item, small chance for +10/+11/+12
-20: lv51~80 tuning item, equalizer for either 61~70 or 71~80 range, or gear lubricant
-100: one between dimensional vaccine, purple cap, -1 fuel, purple fuel or dioxi-cleaner