Sources:
http://closers.megaxus.com/artikel/mt-up...ober-2016/ <-- Maint. Info.
http://closers.megaxus.com/artikel/mt-up...tober-2016 <-- Updated Maint. Info.
http://closers.megaxus.com/artikel/news-...ober-2016/ <-- Patch Info.
Maintenance Information
Maintenance has since been completed as of
10:45 WIB
. The actual patch size is
65 MB
.
You can download the manual patch from this thread.
An announcement has been made that the Indonesian Closers Team will conduct maintenance on

20 October 2016

to implement the

Airport Area for Nata

,

increase Nata's level cap to 62

, and implement a

Halloween Event

.
Estimated maintenance will finish at

12:00 PM WIB

.

Date: 20 October 2016
Time: 6:00 AM WIB
Large Update: 75 MB
Estimated Maintenance Time: 6 hours


CLOSERS ID Patch Update List (20/10/2016)

System Update
Nata
Add
Max Level: 62

Base Area: Airport

Airport Quest

Equipment and Crafting List

Event
Add
Nata's Airport Event

Halloween Event

On-Going
Nata's Official Crew

October Ceria

Fix
Crafting using Arena Points

Compensation
Compensation for errors occurred when crafting using Arena Points

Reward
Gift for reaching 55,000 likes on Facebook will be awarded on 27 October after maintenance.

Animation Optimization


Union Store Update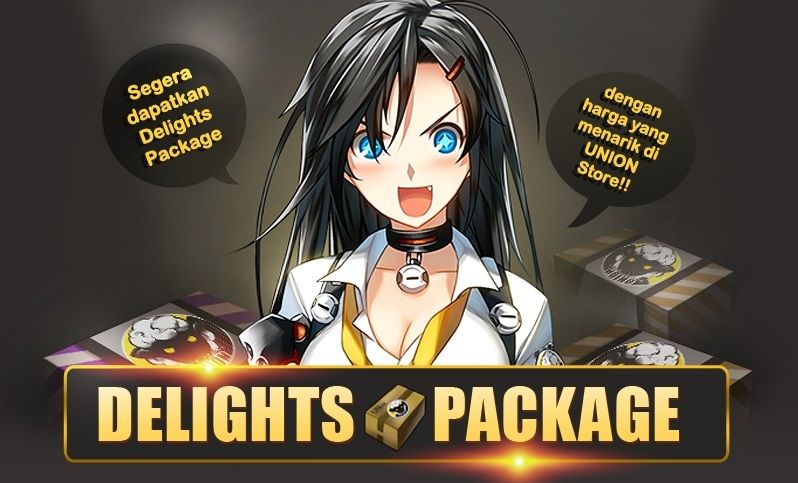 The Delights Package will be added to the Union Store for 99,000 MI-Cash, with a total value of 291,000 MI-Cash.
The Delights Package contains:
Bunny Mini Material Converter x5

Cos One Shot +11 x1

Revive Capsule x11

Healthy Drink 500ml x1

Warranty Seal x30

Network Interference Device x6

UNION Gear Lubricant x1

Nutrition Food x30

Elite Training Course Contract 7 Days x1

Gacha Shop Re-sale
Due to the many requests from UNION Agents and Vultures, the Housekeeper costume will be back in Material Conversion and Mini Material Converters. Having all pieces equipped of the 3-star Housekeeper set [D] will provide a special emote. (Hope I didn't butcher that, lol.)
The Housekeeper set [D] is also available for Levia and Nata.
How to use the special emote:
Equip one set of the 3-star Housekeeper  [D] costume consisting of 6 parts: Weapon, Hair, Top, Bottom, Gloves, Shoes

Open the Skill Window (K), then select the tab Emoticon

Search for the Maid emote

Drag the emote to a Quick Slot

Another way to activate the emote is by typing

/maid

in chat.

Halloween Photo Booth
To celebrate Halloween this year, the UNION and Vultures staff have placed several Halloween-themed decorations in several different Base Areas. Agents can use these Halloween Photo Booth decorations to capture precious moments with friends on Halloween 2016. (They look really cute, oh my god)


Nata's Airport Event (20 October - 03 November 2016)
To get the freedom that he desires, Nata must beat the terrorists at the Airport and collect Counter Terrorist Decorations, which can be redeemed for a number of useful items. (See image for items)
Items will drop from 20 October - 03 November 2016 before maintenance.




Craftable items will be available from 20 October - 10 November 2016 before maintenance.




Counter Terrorist Decorations will be removed after the 10 November maintenance.



02: Nata's Airport Title
(Google Translate really botched this one up, I'm sorry lol... I think I got it, though?)
For his hard work in exterminating the terrorists that tried to escape Private Sector Exterior V. Hard 6x, Nata will be rewarded the pink title, "Airport Garrison." (So basically what I'm getting from this is to beat Private Sector Exterior V. Hard 6 times to get it.)
Halloween Event (20 October - 10 November 2016)
01: Jack O' Lantern
The UNION technicians have made Halloween Pumpkin Carving Sculptures in large numbers and scattered them throughout various dungeons in New Seoul to capture the famous story of Jack O' Lantern for Halloween. Collect these Halloween Pumpkin Sculptures and take them to Allan to redeem them for various prizes! (See the image for prizes--You might need to right click the image and save it to be able to see)
Notes:
Halloween Pumpkin Sculptures drop in 10(+?) stamina dungeons




Drop Period: 20 October – 10 November 2016




Craft Period: 20 October – 17 November 2016




Event costume cannot be upgraded or dismantled.




EX Dimensional Module Box and EX Dimensional Core Box will give 1 random Perfect Module or EX Core Weapon.



02: Weekend Treats Event

Login this Halloween weekend to get Halloween items prepared by the UNION and Vultures staff for the Agents and Crew members of Closers Online Indonesia! (See the image for login rewards)