Anyway....... after waiting till 5AM~8AM KST to be able to
facerol ungeared people
get "average opponents" , i managed to get 10 win streaks, (11 actually).
But man....... this is sooooooooooooo...........SOOOOOOOOOOOO MUCH FOR ME KOKORO TO HANDLE SERIOUSLY?!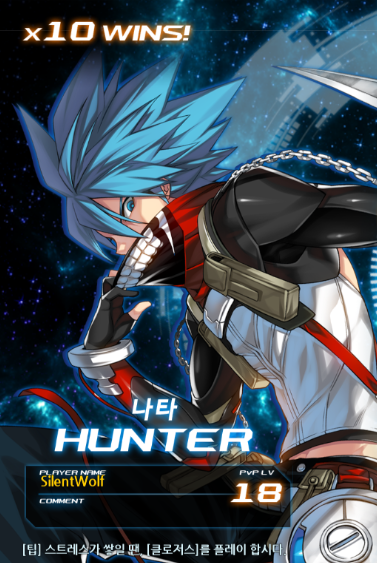 What i noticed:
Seulbi:
-Every single character have a skill that would force the opponent to get up from KD/FC EXCEPT Nata. (he had blade of pulverization but they removed it on the latest patch)
-The difference between +10 & +11 is little while the difference between +11 & +12~13 is terribly huge.
-Seulbi can control 70% of the map with her hitstuns, hunt the sh** out of you with her bits, and as if it wasn't enough, gets you up from KD with gravity field:
+If you get catched and you don't have force cancel ready, you are dead even if the seulbi have no gears (assuming she knows what she is doing).
+Even if you keep dodging every single freaking thing, her FM2 can take your whole HP, same goes for railgun.
+If you think trying to melee her is  good idea, take another look at her teleport, she can literally just poke/destroy you and run harmless, so far I CANNOT manage to deal damage to her without receiving some, also she seems to have Lv9 super armor or something that i can't crash with basic skills, on the other hand i get hitstun'd every single time.
+Not only she can do all the above, but also give you a terrible movement speed debuff, and with the current hitbox glitch, you can start the fight hit with bits.

This is the amount of HP i can lose from being hit at the start of a fight with the aimbot bits, average seulbi..
Yuri:
+Almost as nasty as Seulbi, i would definitely say she is less troublesome? gotta watch out of her FM1/FM2 & blits, rolling vulcan and......yeah pretty much 70% of her skills that can take 50% of your HP if not all at once.
+You can grab her when she uses blitz, she is slow during that animation, so you can definitely do it, just remember that might cost a force cancel and is very risky and you might already lose 30% of your HP before you can grab her
+At the start of a fight you'd better run till she wastes all her ranged skills & bullets before engaging, at least make sure her skills are on cooldown..
+Yeah, she can control 40% of the map at the start of the fight as well :T........
Levia:
This is Satan itself.
+Can stay the whole fight midair.
+Countless iframes making most of your skills miss and get catched instead.
+You will be spending 60% of your time running from her and 40% following her just to run away from her.
+Sucktion ball can be used at the start, and another is ready almost once the last one is over.
+Her FMs aren't scary to force cancel but still hurt.
+Can awaken 30sec after the fight start, while you can only awaken after you are at 10% HP or a Seha player, you are technically disadvantaged by at least 40% dmg.
+HOW THE **** AM I SUPPOSED TO CATCH SOMETHING THAT DOESN'T FLINCH AND KEEP CHANGING ALTITUDE?
So, i decided to change my gears/passives and go full retard against magical damage.
Got myself 79% magic defense & 15% magic damage reflection.
Met a +10 Seulbi in arena, fought her 3 times, and each time it took at least 5 minutes with win-lose-win (i swear it was so hell for me to win like that).
So, not only she was undergeared compared to me, but i also had 60% physical penetration and 79% magical defense, YET SHE STILL HURT LIKE A FREAKING TRUCK (and her FM2 was of course able to one shot me once used)
Also had a being-facerolled-experience by fighting the same +13 Levia 7 times in a row.
Win rate dropped to 58% gg.
And, the 10 win streak box gives ONE random item, including washing machine, 1day talismans (the triple/green one) purple fuel etc.. but guess what i got? 1 revive pill.
I'll just wait till december update/next week to judge, but currently its definitely imbalanced and I'm crying for help.