Because I've seen a few people have some issues when trying to play the Indonesian server, I decided to make a guide.
First things first. We need to create an account!
Creating Your Account
Click the button towards the top right of the screen that says: "REGISTER GRATIS."

You will be taken to this page.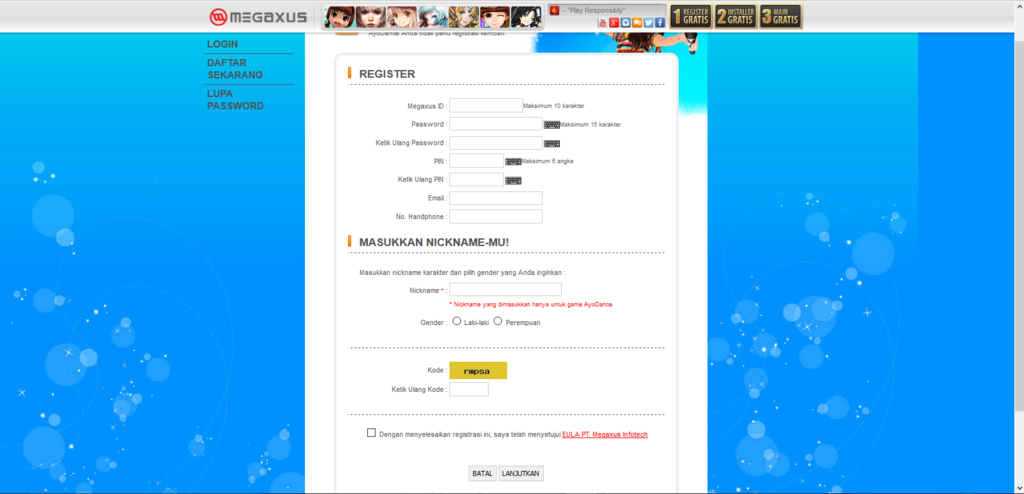 For the ID, enter the username that you will use when logging on.

Enter your password and re-enter it.

Create a PIN that is at least 6 digits and re-enter it. I've never had to use mine, but remember it just in case.

Put in your email and telephone number. Don't worry about the phone, they don't contact you or anything. I entered in my actual US cell phone number, and nothing happened, so don't worry about getting banned for that.

Enter a nickname. I imagine this is for forums or something, I forget.

Choose a gender, doesn't matter. Open this page up in Google Translate if you're curious lol

Enter the captcha that is shown to you in the box, and check the little box that says you actually read the EULA even though nobody ever does...

Click the button to the right, "LANJUTKAN" to finish registration.

After clicking the button, you will be taken to this confirmation page that shows you what you entered...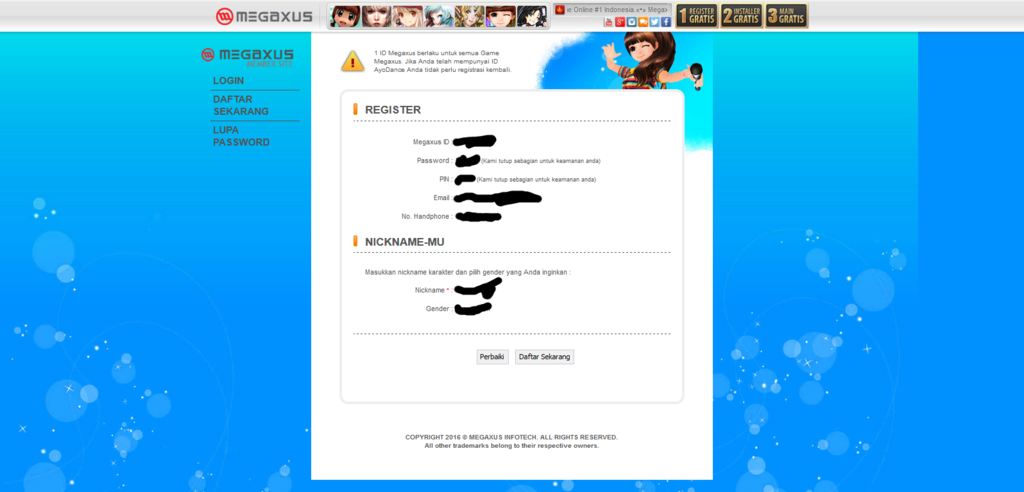 The button on the left takes you back to the previous page to re-enter data if you screwed up.

The button on the right, "Daftar Sekarang," is the button that will continue on.

After clicking the button on the right, you are given a success screen. Click the pink "LOGIN" button.
On the next screen you will see a normal login screen, where you just enter the username you made before and the password. I didn't bother screencapping it.
Verifying Your Account
Now that we've created the account, we're going to verify our email. After logging in, we see this screen.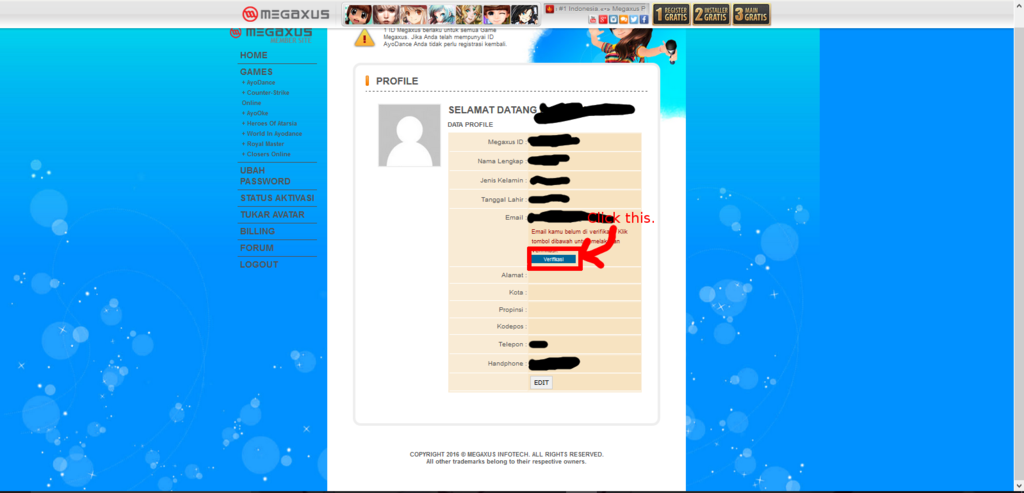 Click the blue, "Verifikasi" button, then click "Send Code" on the screen that pops up.

The email they send you will look something like this. Copy the confirmation code and paste it into the box that popped up earlier, then click Verify.
You have now verified your email! Yay! Finally we can move on from this!
Installing the Game
Something you must know about this game is that it is
IP locked
, meaning you
can't play or download the game without a VPN
. Luckily for you, I've done and will continue to do the dirty work for you in downloading the files you need, so you don't have to use a VPN with a terrible connection to finish downloading and patching the game in a few years.
This is the entire client as of the 20 October patch.

You do not need to download the 20 October Manual Patch if you are using this method.
If you have already downloaded the client previously and just need to patch the game, refer to my Manual Patch threads
like the 20 October Manual Patch.
I use MediaFire to upload my files. If MediaFire does not work for you and you'd like me to upload somewhere else as well, please let me know and I will be happy to do so.
For multiple reasons ("my download is at 99% and my internet cut out so it screwed the entire download" syndrome lol) I have split the download into 200 MB chunks.
Download all of the parts (there are 14 of them).

Open the part 01 .rar and extract it to your C: drive. It will extract all of the other parts automatically and create the "Megaxus" folder there.

Open the "Megaxus" folder, then open the "Closers Online" folder.

Find the file that says "LAUNCHER" and right-click it.

Click "Create shortcut" on the menu that opens.

Find your newly-created shortcut and move it to somewhere else like the desktop. This is what you'll use to open the game. You can re-name this if you wish.

You are all done with the download/install process, yay!

Method 2

For this method, we're going to download straight from the Indonesian Closers site, which I don't recommend, but if for whatever reason you don't trust me or Method 1 doesn't work, this method should work.
You will see options for downloading the entire client in one sitting, or downloading parts of it at a time like I gave you in Method 1.


You will need to be connected to a VPN when downloading, or else it will forever load and give you a connection-timed-out error.



I downloaded the game this way, but I have since deleted the installer and everything, so I unfortunately cannot show you this method in detail. It's rather simple and you just install the game just like you would any other game, though the installer may show your options in Indonesian rather than English or whatever language your stuff is normally in. 
It will take a while to open when you first try to open the installer. Don't panic, and just wait for it to load. It might take a few minutes. To ease your troubled mind, just look in your Task Manager for a process that shows that it's indeed running. I believe it has the word Closers in it, but I forget.
You may get any of these errors. Please download the corresponding file I have provided for each, and extract them to your "Closers Online" folder inside of your "Megaxus" folder. I got this information from
this official troubleshooting page from Megaxus.
Try to disable your antivirus and re-run the launcher to see if it works itself out first. Don't listen to them when it says to turn off your VPN, they're talking about Indonesians, not us who are trying to pretend we have an Indonesian IP, lol. That'll just cause even more problems.
If you haven't turned on your VPN, turn it on and retry.


Errors and Downloads
Running the Game
This is by far the
#1 thing

that gets people screwed up
.
You must be connected to a VPN when opening your launcher
, otherwise you will get this error.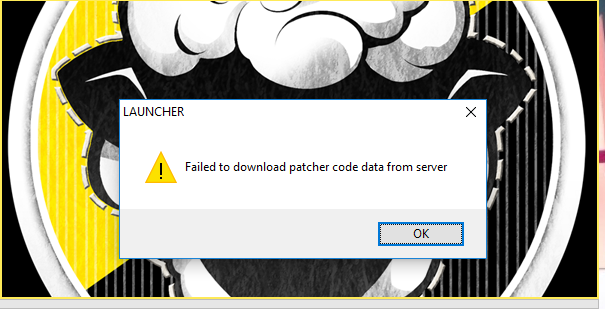 Nothing is wrong
; your files aren't corrupted or anything; you just aren't allowed in without an Indonesian IP. I recommend something like ZenVPN or SoftEther for your VPN. Anything will do as long as it has Indonesian options to connect to. I won't cover downloading the VPN services here, just look them up on Youtube.
When you are connected with an Indonesian IP via VPN and you open the launcher, this is what you'll see. It'll do a file check and may or may not patch files (it shouldn't for method 1, but it will definitely do so for method 2), and once that is done, you will have a blue highlighted "PLAY" button. Click it.
Keep your VPN running because we're not quite done yet. It'll bring up the game screen, though it'll freeze for a little bit while XIGNCODE runs. Don't worry about it; just don't touch anything until it brings you to the login screen. You'll notice it right away from the drastic change from silence to distinct CLOSERS music. Here is what you will see.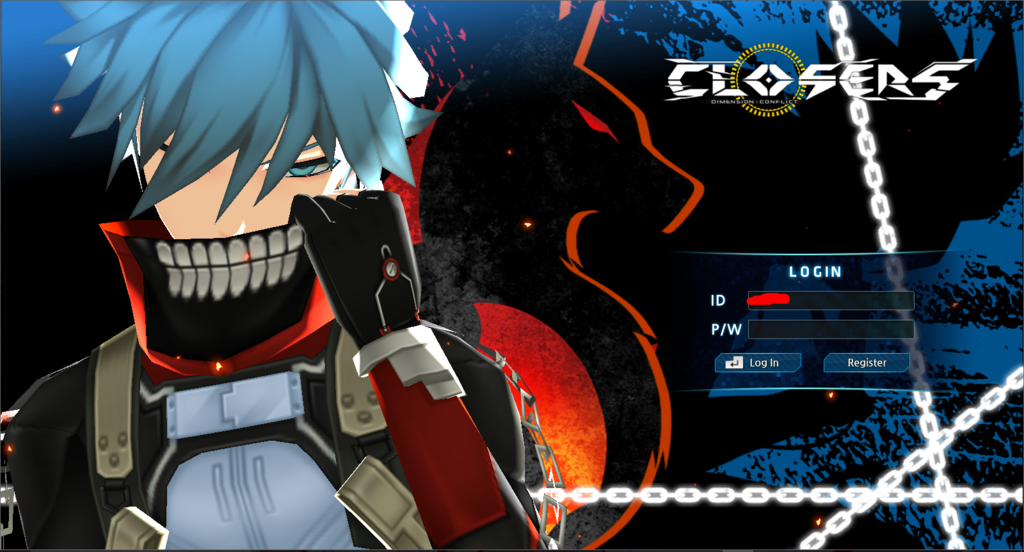 Once you are at the login screen, disconnect from your VPN. You won't need it anymore until the next time you open the launcher/game.
Go ahead and input your username and password you created (next time you login your username will already be shown) and click Log In or hit the enter key on the keyboard.
The first time you login, you will see this.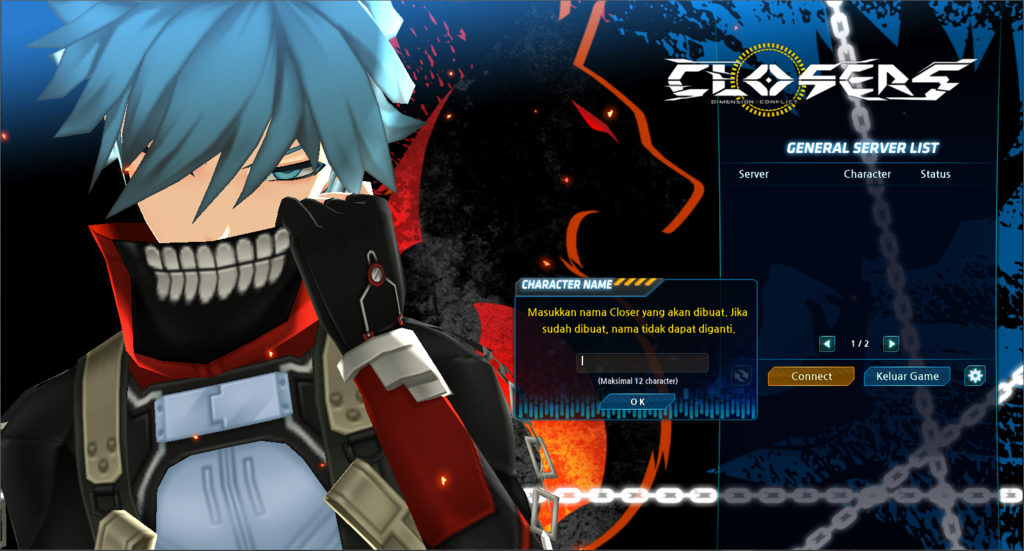 Basically, this is just a in-game username that isn't your character name. Think of it as a "family name" that some other games have. Make it whatever you want. I believe you can add people by this "family name" in addition to adding them by their character name, though I haven't bothered adding anyone yet so don't quote me on that, lol.
Click Connect on the next screen to connect to the server, and choose any channel you like. The ones shown by default are "just throw me in a random one." You can use the arrows to move along the pages.
Click on any character that you like, then click the orange "Contract!" button down at the bottom.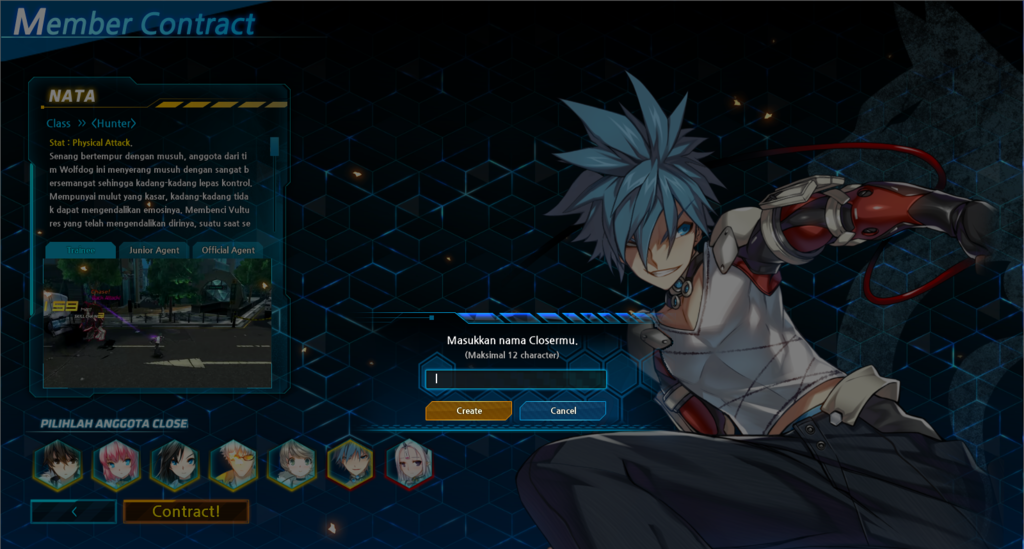 Enter a character name. This will be the name that is displayed for that particular character of yours.
If your character name is taken, this is what you will see.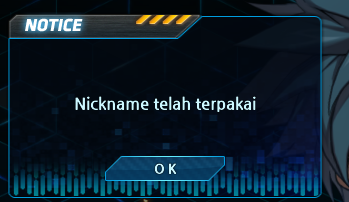 Otherwise, it'll take you to the tutorial and you're good to go! I won't go into anything like moving around, doing quests or anything, but if you want me to go over that, I will. Good luck on playing the game!
Notes:
If you happen to forget to turn off your VPN before logging in, you may or may not be booted/crash the game when you disconnect anywhere else.

In addition, if you disconnect your VPN before XIGNCODE has finished (before the login splash), it appears to infinitely load and you'll have to force close the game and try again.



If the launcher takes forever to open (like, I got the patch error before and re-opened the launcher), make sure to kill the "Closers Launcher" process in Task Manager before trying to re-open it. I've had that happen a few times myself.
Sometimes, despite being connected to an Indonesian IP via VPN, it'll still give you the "Failure to download patcher code data from server" error. Just kill the process and connect to a different relay server and try again.
Every game undergoes updates, and CLOSERS is no exception. I will cover patching the game briefly in this section.
You won't have to worry about doing this for the
20 October patch
, as the files I have provided for you include the patched files with them. However, for any future patches, you will need to follow one of these methods to patch your game.
Method 1: Manual Patch (no VPN required)
Inside the
Guides, Resources & Tutorials subforum
, I will be uploading the Manual Patch for every update to the game. Because these are uploaded for you to download by me and not the official website, they do not require you to be connected to a VPN in order to download them. Just find the thread with the manual patch you need, download the file, and extract it to your Megaxus folder.
It will notify you that files have the same name and asks if you want to replace the file with the new one. Just click "Yes to All." Once that's finished, your game is now patched and you're good to play again!
Method 2: Patching Through the Launcher (VPN required)


This method requires you to use a VPN and is horribly slow because of that. When opening your launcher, it will check your files to see if they need updating. If you didn't download and extract the manual patches that I've provided for you, you will have to deal with a terribly slow connection when patching through the launcher. Have fun with less-than-1-mb-per-second download speed SoftEther users!